Life Proof Clothing – Using Technology In Textiles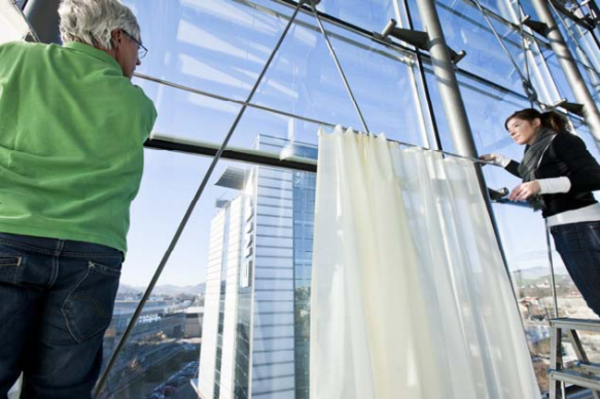 Most of us have heard of wrinkle free clothing. Perhaps even stain free clothing, particularly Indians who have been to Australia but in USA the market for it is yet to find a contender.
The news is there is this startup looking to create hyrdophobic textiles, in layman's lingo you may understand it as 'stain resistant clothing. The wearable technology allows the spilled liquids to roll off the fabric. They're are looking to use the technology with regular or daily wear cotton fabrics be it shirts for adults or clothes for kids. But, their focus is more on hi-end fashion fabrics and uniforms particularly the healthcare domain. It apparently uses natural fabrics and fibres that are performance enhanced, thus making the clothing life proof. The cost does increase by 5% but it is likely to offer over 40% rise in business for retailers. What's more these clothes are doing their bit towards the go green initiative by saving water and energy used during laundry procedures.
As per the CEO and co-founder of this startup, the idea came from the very fact that no one in the world wants to wear stained clothes, inspite of living in a world full of stains. Their line of hydrophobic clothes that are stain proof and can be used on a daily basis. The technology consists of use of stain repelling nanotechnology after the dyeing and before the knitting process of the fabric. The brand also ensures that the softness of the fabric as well as the breathability is not compromised at all. Thus, the customers can stay clean, fresh, comfortable and dry whenever in the fabric. The product is high on functionality and is market driven as per the creators. No wonder a lot of apparel and furnishing brands have already collaborated with this startup which has bagged a place in the list of 100 most exciting startups in NYC by Business Insider.
Well, every one of us would definitely want to buy such a line wherein we can just live our daily life and do what we want without worrying about our white shirts, dresses or uniforms. Plus, we would be contributing indirectly to the environment as well. Sounds good, does that?
Know about best engineering colleges in bangalore