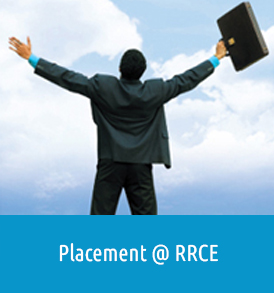 Training and Placement Department
Soft skill & Personality Development on regular basis to the students of II year to final year.
Industrial Visits and vacation In-plant Training in industries for students from 2nd year onwards.
Expert Special lectures for the benefit of the students and the staff members.
Dynamic and personalized content providing accurate assessment for employability in various industry sectors and job profiles.
Center for Training and Development
Objectives:
To build self confidence
To develop interpersonal skills
To inculcate leadership Qualities
Overall grooming of a student



Different agencies are selected on the basis of the quality delivered to the institution every year for training the students of RRCE. It is witnessed through the demo session in front of students, professors and management. Collaborative feedback will help the management to select the companies. Management is very keen on the quality which shows the concern towards students' development.

Cell enriches the personality and leads to the perfection of every individual. It also conducts extra grooming sessions before the drives to boost up the morale. Group discussion is conducted continuously every week all the students. This brings in confidence to participate effectively in drives




Pre-Placement Training Activities




Training is been given in all the four years for the students of RRCE for all the four years

Training is given based on the requirement of the current market. Training is also customized for different semesters throughout four years.




Life skill training program for four years




| | | |
| --- | --- | --- |
| Sl NO | Year | Content |
| 1 | First | English communication with practicals |
| 2 | Second | Personality Development with practicals |
| 3 | Third | Employability Skills-Interview skills, GDs, Resume writing etc |
| 4 | Fourth | Technical skills- Aptitude, Analytical, Reasoning, problem solving etc |




Current Academic Year RRCE is collaborated with below mention agencies for Training:




| | | |
| --- | --- | --- |
| Sl No | Year | Agencies |
| 1 | First | In-house Resource person |
| 2 | Second | Connect Talent |
| 3 | Third | Skill Wiz |
| 4 | Fourth | Face Academy |
| 5 | MBA /MCA/Mtech | Jyesta Academy |




Training for Final year BE, MCA, MBA and Mtech has been Completed for the current year with the collaboration of FACE and Jyesta Academy successfully.

Feedback from the students has been recorded. Both Agencies have performed extremely well and is highly beneficial to our students.